What is a Pre-College Program?
Harvard's Pre-College Program for high school students is an intensive two-week summer program designed to give you a glimpse of college life. You will live on the Harvard campus during your two-week session while taking a college-level course with other Pre-College Program students.
Test your intellect without the pressure of letter grades. Classes are non-credit, so you can take a college-level course for learning's sake.

You will be challenged by Ivy League scholars as you immerse yourself in one subject in an average class size of 15 students.

Live a balanced (college) life. When class is not in session, you'll participate in creative and social activities that stimulate your mind. And take time to have fun and get to know your peers.

Discover your passions. Whether you're undecided about potential areas of study or want to take a deeper dive into a subject you love, the Pre-College Program can help you find what really excites you.
In this collegial setting, you will practice the art of healthy debate, learning to communicate clearly and diplomatically on complex topics.
42

Languages Spoken

54

US States and Territories

72

Countries Represented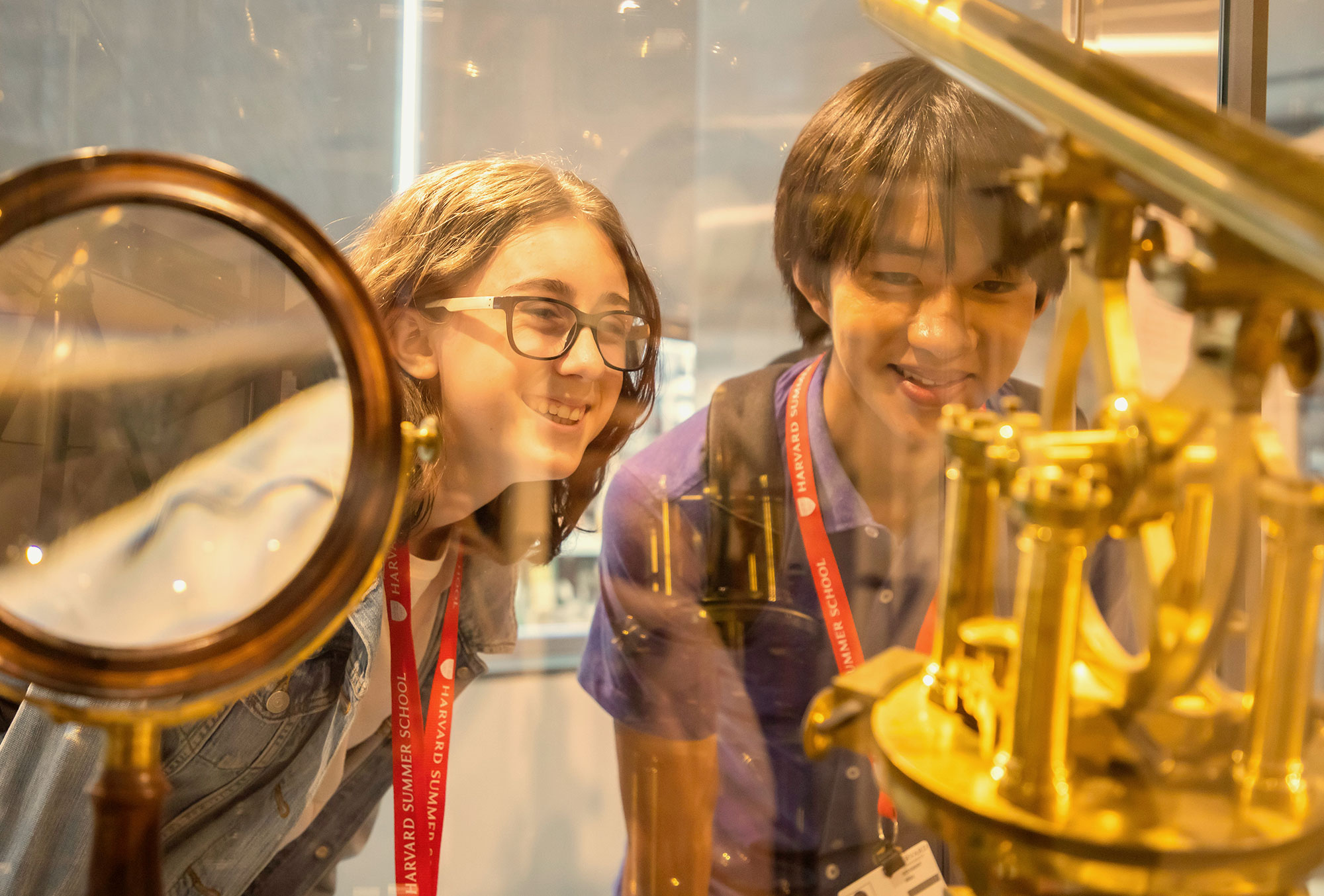 How to Apply to Harvard's Pre-College Program
The application for Summer 2024 is now open.
Who Can Participate in the Pre-College Program?
Harvard's Pre-College Program is designed for mature, academically motivated students who are interested in exploring a potential major or simply finding out what college is really like.
Our Pre-College Program is open to rising juniors and seniors. To be eligible for Summer 2024, you must meet both of the following criteria:
Will graduate from high school and enter college in 2025 or 2026.
Are at least 16 years old by June 22, 2024, and will not turn 19 years old before July 31, 2024.
Important Deadlines:
Early Application and Priority Financial Aid Deadline — January 10, 2024
Regular Application and Financial Aid Deadline — February 14, 2024
Late Application Deadline — April 10, 2024
See the Pre-College Calendar for all important dates and deadlines.
Program Activities
In the Harvard Pre-College Program, you have the opportunity to choose from dozens of co-curricular activities to participate in each week. These opportunities help ensure that you have a well-rounded experience.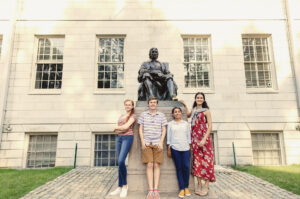 Courses at Harvard's Pre-College Program
Cost & Aid
The total fee for a 2024 Harvard Pre-College Program session is $5,550. The program fee includes tuition, room and meal plan, activity costs, and an accident and sickness insurance plan for the full two weeks. There is also a non-refundable $75 application fee.
A limited number of scholarships are available to assist eligible students who demonstrate financial need. Awards vary based on need, and a typical award covers a portion of the tuition.
FAQs
How Long is Harvard's Pre-College Program?
Harvard's Pre-College Program is a two-week program during which you will live on the Harvard campus in Cambridge, Massachusetts. During these two weeks, you'll experience what it's like to live on a college campus, attending classes every day, studying, and participating in program activities. Each summer, we offer three two-week sessions so you can find the program that fits into your summer schedule.
What Will You Get Out of a Pre-College Program?
At Harvard's Pre-College Program for high school students, you'll build advanced academic skills—and amazing memories—that will last a lifetime.
You'll learn to live independently on a college campus. You'll make new friends from around the world. And with hard work and diligent study, you'll expand your knowledge in an immersive college class.
These experiences will not only enrich your high school years. They will set you on the path for success as you move onto your college journey.
At the end of the program, you'll receive a written evaluation from your instructor, as well as a Harvard transcript with a grade of AR or NM ("requirements met" or "requirements not met"). This is a great way to supplement your college application.
Can You Earn College Credit Through the Pre-College Program?
You will not earn college credit through the Pre-College Program.
The Pre-College Program is designed to allow you to explore the expectations of college academics without the pressure of grades. You can explore a subject you think you may want to major in, or you can explore an interesting topic just for fun.
However, Pre-College Program courses are intensive. Each day, you will be in class for three hours and you should expect to have 2-4 hours of homework. To successfully complete the program, you'll have to attend and participate in every class and complete all assignments.
Do Pre-College Programs Help with College Admissions?
Participation in a Pre-College Program at Harvard can help with college admissions in several important ways.
Successfully completing a pre-college program demonstrates your ability to succeed in a rigorous college course. It also shows admissions committees that you are a motivated and dedicated student who is willing to put in the extra effort to succeed.
Most importantly, however, our Pre-College Program is designed to offer you tools to navigate the college admissions process successfully.
Our college readiness activities include workshops on how to write your college admissions essay, seminars on understanding the financial aid process, and panels on how to choose the right college. We even host a series of panels with admissions officers from colleges around the country.
So when you leave the Pre-College Program, you'll be ready to jump right into the college admissions and application process.
For additional information, read more Common Questions about the Pre-College Program at Harvard Summer School.
Why Choose Harvard's Pre-College Program?
Harvard's Pre-College Program combines the hard work and rigor of an Ivy League education with the fun that comes with living, studying, and socializing with new friends.
Whether you're engaging in meaningful debate in class, sharing your skills at a talent show, or exploring the Boston area, you'll be creating memories that will last you a lifetime.
The first step in your journey toward this amazing experience is applying. Complete our information request form to hear from us about important deadlines and helpful resources.