Stephanie Anderson has dreamed of space for years. Last month, she found herself sitting in the Great Refractor at the Center for Astrophysics where one of her role models, Avi Loeb, the Frank B. Baird, Jr. Professor of Science, was once pictured. The trip was part of her summer class "The Life and Death of Stars."
Anderson, along with twin sister, Lauren; Téa Trevarthen; and Carys "Megat" Tulk are current students in Harvard's seven-week-long Secondary School Program. The four are all from Scotland and were introduced to the program by Who Cares? Scotland, a Glasgow organization focused on providing support and opportunities for youth who have experiences with the country's foster care system, known in Scotland simply as the care system.
The 17-year-old Anderson twins lived in foster care when they were young children, then lived with their grandmother. They heard about the collaboration between Harvard and Who Cares? through school and decided to apply.
"One thing [Who Cares] highlighted to us at the interview stage before any of us had been accepted was, 'You can still be part of the charity,'" said Stephanie. "They're a great support."
Who Cares? Scotland began partnering with Harvard Secondary School in 2010. In the 12 years since, the organization has sent 25 students to Cambridge to participate in the program on a scholarship provided by fundraising.
The process is rigorous. Students must first apply through Who Cares? and obtain personal references. Candidates are shortlisted and go through a round of interviews. If they are selected, they then go through the standard Secondary application process, which includes writing a personal statement. Who Cares? also provides information sessions with prior participants to answer questions and assuage anxieties before the students depart.
Once they arrive on campus, Who Cares? students immerse themselves in all the summer activities Harvard has to offer. From classes to field trips to social events, they are encouraged to make the most of their experience.
Trevarthen went into the care system about five years ago and lives in Edinburgh in a fully staffed residential unit with six other young people. They have been taking "Superheroes in Power" taught by English Professor Stephanie Burt.
"I would be an idiot not to choose that," Trevarthen said. "I'm a big fan of 'X-Men,' and there's a massive emphasis on creating characters."
Other memorable experiences included a game of manhunt in the Wigglesworth dorm hiding from the proctors, seeing a blue jay, woodpecker, and turkeys for the first time, and interacting with Harvard Square tourists.
Though never before at Harvard or the U.S., Trevarthen has a family connection: their grandfather, Colwyn Trevarthen, researched infant psychology at Harvard in 1967.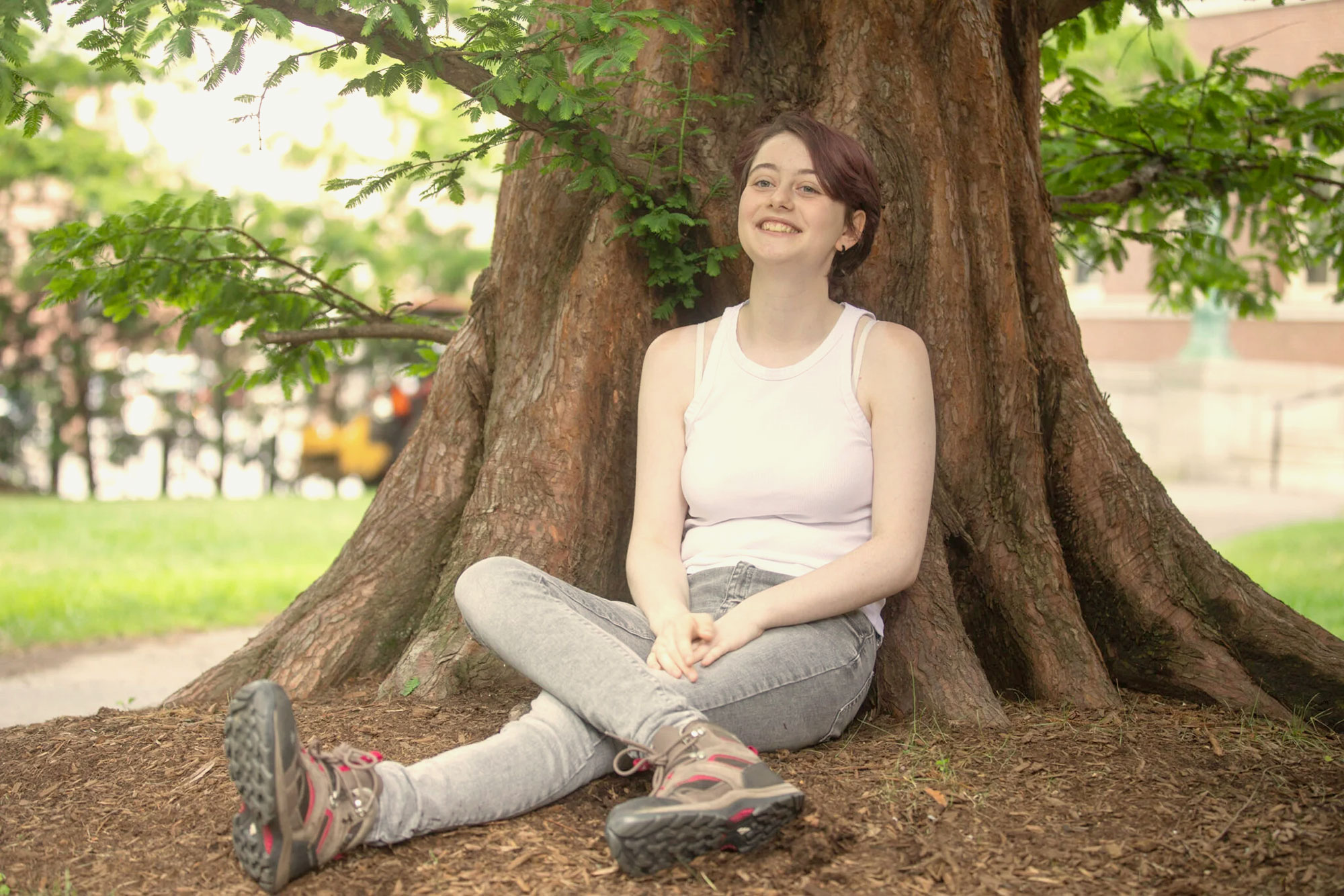 The four have encountered challenges — but not necessarily the ones that might be expected.
Trevarthen reported a bit of culture clash between American and Scottish slang, such as the difference between crisps and chips. Stephanie said she tried to fit in too much socializing at the beginning, and Lauren struggled with the intensity of the summer heat. All the students said they miss the food from home, especially, noted Lauren, the Scottish tap water, which many there consider the world's tastiest.
For any issues that do arise, the students receive support from both sides of the pond. Secondary School Director Bill Hollinger has been working with the organization from the beginning and says the students from Who Cares? tend to have a "rich experience" with the program.
"In terms of the [Division of Continuing Ed] administration, it's been an extremely warm welcome for these students," he said. "I think everybody in the administration has enjoyed the students and rallied around any difficulties that come up. Everybody's really willing to help these kids."
Who Cares? staff also stay in touch throughout the program with weekly check-ins.
"They've been really in our corner through all of this," said Trevarthen. "When you're in the [housing] unit, you work with a lot of advocacy groups, and I honestly think [Who Cares? has] been the most helpful."
The students have been documenting their experiences on TikTok, showing the regular study groups, a trip to Revere Beach, and Fourth of July celebrations.
Who Cares? trustee Graham Connelly said there's been "a sea change" in Scotland about understanding youth in the care system, encouraging more public enthusiasm about funding programs like this one.
"I worried about the precariousness of funding, but that seems to have faded into the background. People are now tripping over themselves to support the program here," he said. Connelly said that there are no higher ambitions than Harvard's, and "we need to have high ambitions for children in the care system."
Reprinted with permission from the Harvard Gazette.