Russia's war in Ukraine has dominated the news since the Russian invasion of Ukraine in late February 2022. For experts on Russian-Ukrainian relations, Russia's invasion of Ukraine was yet another chapter in the long, fraught history between these two neighboring countries.
Two courses offered this summer through Harvard Summer School, in conjunction with the Harvard Ukrainian Summer Institute, offer a deeper, richer understanding of the long history between Russia and Ukraine, and how that history has led to the on-going war.
These two courses—Ukraine in the World: Exploring Contemporary Ukraine (UKRN S-128) and Tradition and Modernity in Ukraine, 19th and 20th Centuries (UKRN S-132)—are open to anyone looking to build their knowledge of the current situation in Ukraine. Adults, undergraduate and graduate students, and high school students participating in HSS' Secondary School Program can register for these courses through Harvard Summer School.
We asked instructors Emily Channell-Justice and Serhiy Bilenky what insights their courses offer into Russia's war in Ukraine, and how students today can support Ukraine and its people.
Q: How does your HSS course offer context and insights into Russia's current war in Ukraine?
Emily Channell-Justice: The entire course is organized around providing context to understand how we got here. We'll be reading political scientist Paul D'Anieri's Ukraine and Russia: From Civilized Divorce to Uncivil War, which goes back to the end of the Cold War to provide some explanation for Russia's first invasion of Ukraine in 2014. Since that invasion was a precursor to the February 2022 invasion, the book gives important insights to how this is something that was built up over time. The book is organized chronologically, so we'll also stop off and look at key moments in Ukraine's domestic political sphere—including the 2013-2014 Euromaidan and other protest movements—to explore how those have influenced the response we are seeing in Ukraine today to the Russian invasion. Finally, we'll use what we learned to explore some of the big questions that have arisen from the war, notably Ukraine's future in international institutions like the EU and NATO, and the prosecution of Russian war crimes committed in Ukraine.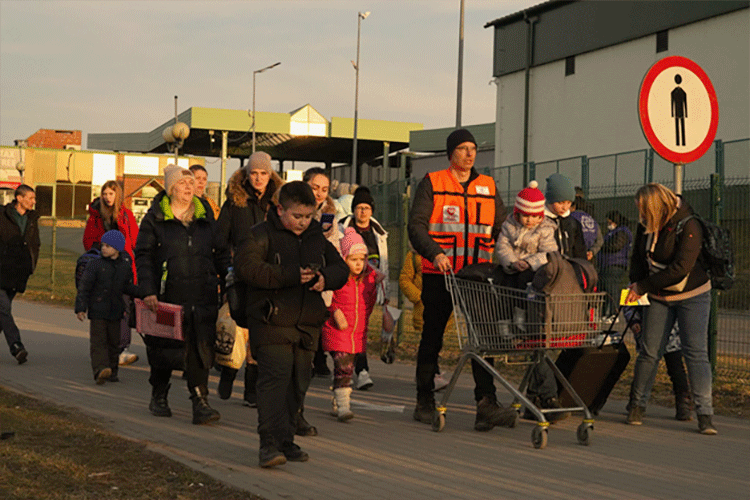 Serhiy Bilenky: My course provides an in-depth historical analysis of political, cultural, and social developments in Ukraine since the late 18th century to the birth of independent Ukraine in 1991. The course specifically traces the origins of the ongoing Russian-Ukrainian war in the history of the complex Russian-Ukrainian relations during the past 200 years. The students will learn why Ukraine has continuously occupied the central place in Russian political imagination, as reflected in president Putin's recent neo-imperialist rhetoric.
Q: In your opinion, what is the one most important thing that students need to understand about the current war?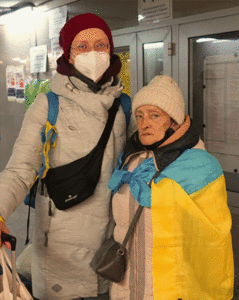 Emily Channell-Justice: While the actual decision to invade Ukraine at such a huge scale was a surprise to many, the factors that led to it were not. That's why the class is organized around the recent past. In both Russia and Ukraine, the past 30 years have led to where we are. In Russia, this has been Putin's consolidation of power around a very particular worldview with which he justifies this war. In Ukraine, this has been following a clear path toward democracy. It has been civic organizing that has worked to empower people to believe that their political participation matters. These developments clearly distinguish Ukraine from Russia, but they also help us understand why the Ukrainian response to the invasion was to mobilize and participate, while the Russian response was to double down on the Kremlin's worldview. None of this was inevitable, but we can trace how the post-Soviet era has shaped both countries, their leadership, and their citizens.
Serhiy Bilenky: In my view, the single most important thing that students need to understand about the current war between Russia and Ukraine is that it was caused neither by some ethnic and cultural divisions within Ukraine nor by the allegedly provocative stance of the West, but rather by the lingering imperialist and colonialist attitudes of Russian political class and much of Russian society towards Ukraine. These attitudes hark back to the times of the Russian Empire when Ukraine was seen by many as Russia's colony. My course explains how those attitudes were formed in the past and how they have been deliberately cultivated in recent times.
Q: What can students do today, and in the future, to stay informed, critically analyze events in Ukraine, and support Ukraine and its people?
Emily Channell-Justice: I strongly believe that the information war is a front of this war. Every person who takes the time to seek the truth is fighting for it. That's why it's so important to stay informed and why a part of the class is organized around finding and assessing information, as well as how Ukrainians have been fighting the information war (they've been on this front since 2014!). Students should be reading verified sources online—English language sources such as the Kyiv Independent are doing a fantastic job covering the war. They should make sure that they don't indiscriminately share information that can't be verified by more than one source. They should also be aware that Kremlin propaganda techniques are not just about spreading misinformation—they also exploit divisions and try to sow uncertainty. The more we are all aware of how these techniques have infiltrated social media (and sometimes even popular news outlets) the more we can think critically about whether or not we want to share certain stories and what narratives we're contributing to when we do. We have to engage with information in intentional ways because fighting the information war is a really critical part of this story that students can easily do from anywhere.
Serhiy Bilenky: The most effective way today for students to stay informed about the events in Ukraine is to take the courses offered by Harvard Ukrainian Research Institute. Students should also attend (physically or virtually) numerous events throughout the academic year organized by the Ukrainian Institute and by its sister academic institutions across the world. The expert knowledge is the best antidote to the disinformation and "truthiness" that abound in the context of the current Russian-Ukrainian war. The best way to support Ukraine and its people, besides donating to charities, is to maintain the sympathetic, yet critical gaze that is formed by means of good scholarship and journalism.
*Images provided by Daniel Farber Huang, ALM '20. Read an interview with Daniel about his experience as he traveled to the Ukraine-Poland border to chronicle the plight of refugees.