"This program taught me how to adapt to a more rigorous course load, which has been really helpful for my high school experience."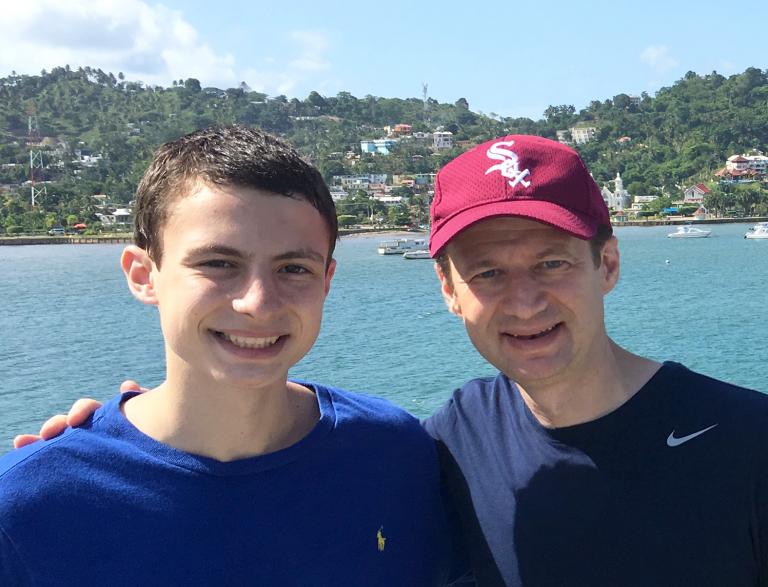 Matthew Miller
Program: Secondary School Program (2015)
High school: Deerfield High School, Deerfield, Ill.; Class of 2017
High school extracurricular activities: Student council, student congress, Model UN, Scholastic Bowl, Spanish Honor Society
Courses taken at Harvard: Public Speaking, Marine Life and Ecosystems of the Sea
Rich Miller
Program: Secondary School Program (1984)
High school: Niles North High School, Skokie, Ill.; Class of 1985
High school extracurricular activities: tennis, student government, National Honor Society, soccer
Courses taken at Harvard: Intro to Psychology, Modern Jewish History
In 2015, Matthew Miller traveled from Illinois to spend seven weeks living and studying at Harvard for the summer—just like his father Rich Miller over 30 years prior. In honor of the 50th anniversary of the Secondary School Program, we spoke with Rich and Matt and asked them to reflect on their experiences and how the program has grown over the years.
Q: Matt, what was the best part about your experience at Harvard?
Matt: Harvard's resources—I had never seen a library as big as Widener! It was amazing to walk through the stacks and discover all the books they had available. They also offered great study resources, like the academic tutoring program, and the Activities Office provided many opportunities to travel and explore Boston and Cambridge.
Q: What was your favorite place on campus?
Matt: Annenberg Hall. That's where I met people from all over the world. It's easy to approach someone sitting alone and strike up a conversation. I discovered that even though we all have different backgrounds or traditions, there's still so much that you can have in common.
Q: What advice would you give to someone who's considering attending the program?
Matt: Definitely attend, if you can. I still think about the experience every single day. Many valuable lessons have stayed with me. This program taught me how to adapt to a more rigorous course load, which has been really helpful for my high school experience.
Q: Rich, what do you think has changed about the program since you attended?
Rich: It's become so much more diverse. When I was in the program, I remember meeting kids from different states like New York, Pennsylvania, and Florida. Matt got to meet kids from different countries! It's a unique opportunity to connect with an international community, and it added so much to his experience.
Q: How did the experience help prepare you for college when you were Matt's age?
Rich: It instilled confidence in living on my own—meeting new people, discovering new places, and even handling simple tasks like doing my own laundry. Because of my Harvard experience, there weren't as many unknowns when I went left home for college. I wasn't as much of a rookie—I felt prepared.
Q: What was it like when you sent Matt off to Harvard for the summer?
Rich: It was reminiscent of what I did years before, and I was proud of him for taking that step toward independence. I was impressed by how quickly he adapted and how much he took advantage of all the resources and experiences Harvard made available to him.
I visited him one weekend, and I got to see the dorm I stayed in (I was in Holworthy, at the end of Harvard Yard). The visit reminded me of how it felt to have independence at that age, and I enjoyed seeing him share the same experience.
Q: Did you give Matt any advice before he left?
Rich: Make the best of it and meet new people. Delve into everything that Harvard and the program has to offer.
Matt: He was actually really helpful in preparing me. I remember him encouraging me to be open to meeting new people, particularly in the first few days. In the first few days, people are forming friendships more quickly, so getting to know as many people as you can early on makes a big difference.