"The most enriching part was just having that Harvard college experience—to be on the campus of a school that's so highly praised."
Dalya Oprian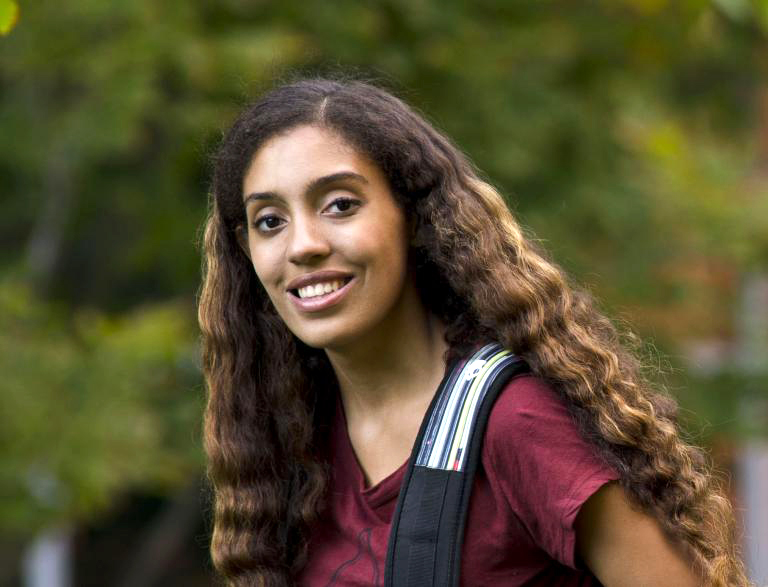 WHERE I'M FROM: Cleveland, Ohio
GRADUATION YEAR: Class of 2016, Hawken School
PROGRAM ATTENDED: Secondary School Program
EXTRACURRICULARS: Track and field, musical theater
---
Q: Tell us about your Harvard experience.
I learned a lot in my classes. The faculty were very understanding of the fact that we were in high school and it was our first time taking college courses. But they also had very high standards for us, and they expected us to work at the college level. It was our responsibility to take an idea presented in class and kind of grow that idea on our own.
Outside the classroom, I was surprised at the amount of freedom we had. It really seemed like college. I became really close friends with the people in my dorm, and we spent a lot of time together: we went out to eat, to the gym, we watched TV in our rooms. It was a lot of bonding.
Q: What was the most enriching part of your experience?
The most enriching part was just having that Harvard college experience—to be on the campus of a school that's so highly praised. The experience also helped me know what kind of college I'm looking for. I'm now looking for a college that's part of a town, like Cambridge, but close to a big city. I want classes that are open and discussion-based, like my acting class was.
Q: How did the experience help prepare you for college?
I think I'll be able to handle the college experience better. I know more about time management and how to focus on my responsibilities, while also still having time for a fun college experience. It helps you find a strong balance.
Q: How would you describe the experience in five words or less?
Amazing, inspirational, intellectual, engaging, and expansive. I would definitely recommend it to other students. It's one of the best things I've ever done, and one of the best ways I could have prepared myself for college.
---
Update: One Year Later
We followed up with Dalya to see what she's up to, and asked her to reflect on her experience one year later.
Q: Can you update us on what you are doing now?
I am currently attending the University of Miami in Coral Gables, Florida, and studying marine affairs on the pre-medical track. I would also like to double minor in psychology and political science. I'm in the process of applying for an RA position for next year–that is partially due to my great experience with my RA during the summer program. She was absolutely amazing!
Q: How did your Secondary School Program experience influence your college search?
My Secondary School Program experience heavily influenced my college search. It provided me with an idea of what type of academic program and environment I could succeed in. It gave me a better idea of what to look for–campus size, for example–when choosing colleges to apply to.
Q: How has the Secondary School program affected your life today academically and socially?
The Secondary School Program gave me an idea of what to expect from college-level academics. I did not go into college blind, which made me feel more comfortable with the material.
It also helped socially. During the Secondary School Program, I had to develop new relationships with people from all different backgrounds, and my college experience is very similar. You are surrounded by people who are very different from yourself. I felt more confident in developing friendships and deep bonds because of my time in the Secondary School Program. It allowed me to expand my horizons which is something I have continued at my current university.