Brent is earning a master's degree at Harvard Extension School. He lives in Austin, Texas, and comes to Cambridge periodically to take courses on campus.
As a student studying from a distance at Harvard Extension School, I've experienced the campus and environs only through intensive weekends or three-week visits, which were mostly spent nose-in-book. And those previous stays had always been in late fall or during the brutal January winters.
Midway through my final year, I decided to enroll at Harvard Summer School, so I'd be around during the summer in Cambridge—which I'd often heard were so special. I came seeking to spend my remaining time at Harvard with greater intention and appreciation. Conveniently, I'd recently started to renew my devotion to photography.
My first Sunset Over the Charles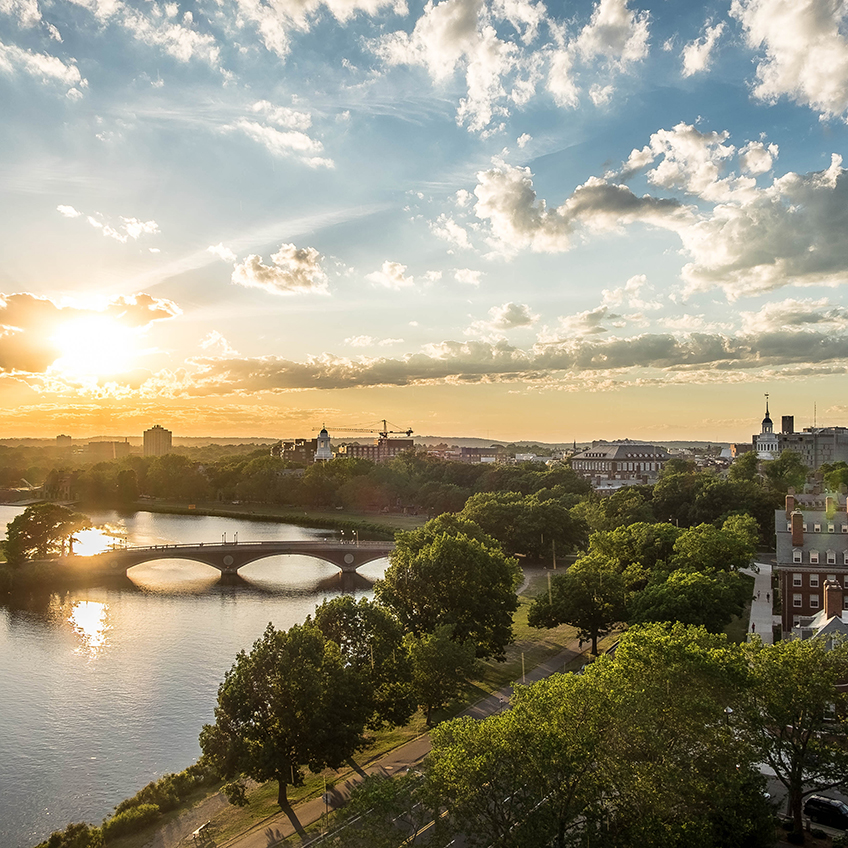 A day's worth of travel weariness added to my already hefty baggage. Dragging it all through the door of my summer quarters in Harvard's Graduate Commons, my first thought was that the room seemed kind of dark.
Oh. With my hands full, I hadn't yet removed my sunglasses. Only as I dropped my bags and lifted my shades did I turn to check the view from my window.
Greeted with this postcard-worthy evening sky over the Charles River, I grabbed my camera and snapped this view before I'd even closed the door. With this golden hour scene, looking over the John W. Weeks bridge to the Harvard campus rising over parkland woods, the Cambridge summer made a grand first impression.
John Harvard Statue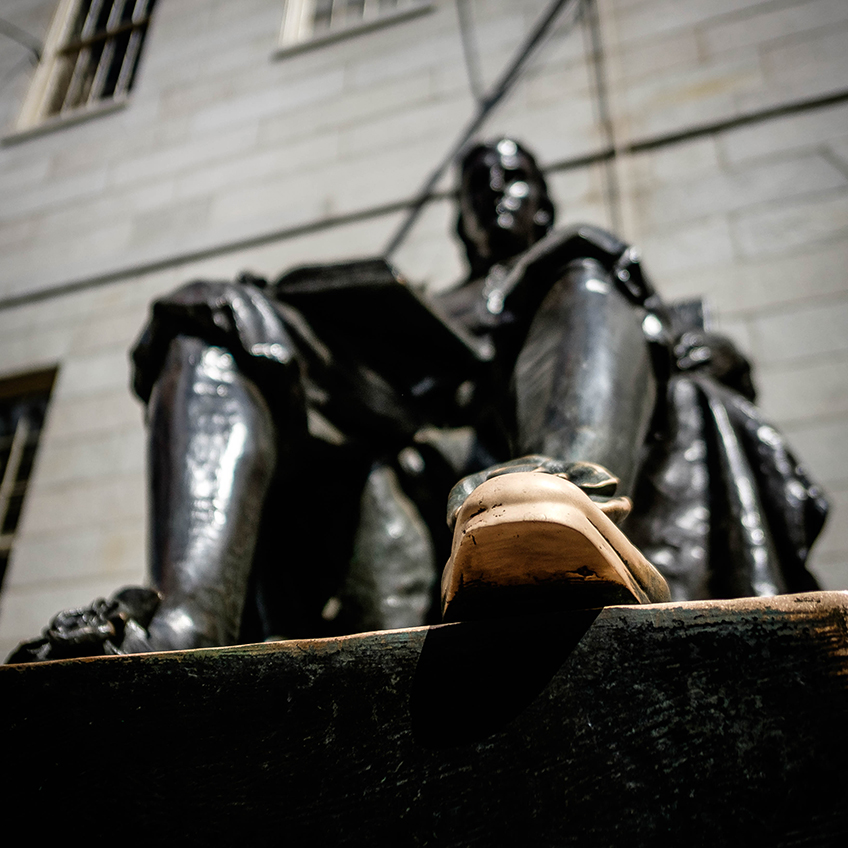 This statue attracts all visitors to Harvard Yard. They head straight for it, eager to rub its left shoe already worn bright by countless visitors before them.
To the preoccupied graduate student hurrying by and conveniently forgetting his own first visit, it can be easy to dismiss this as simply a tourist's tradition.
But there on this beautiful afternoon, for once not in a hurry, I learned something from a group of such tourists. The statue having been duly rubbed, they were peppering their student guide with questions.
Their intense curiosity focused mostly on learning all they could about the path one takes to become a student at Harvard College. It struck me that the significance of this rite is not in rubbing the statue. It's hoping that the statue, and the aspirations it represents, rubs off on us.
Dexter Gate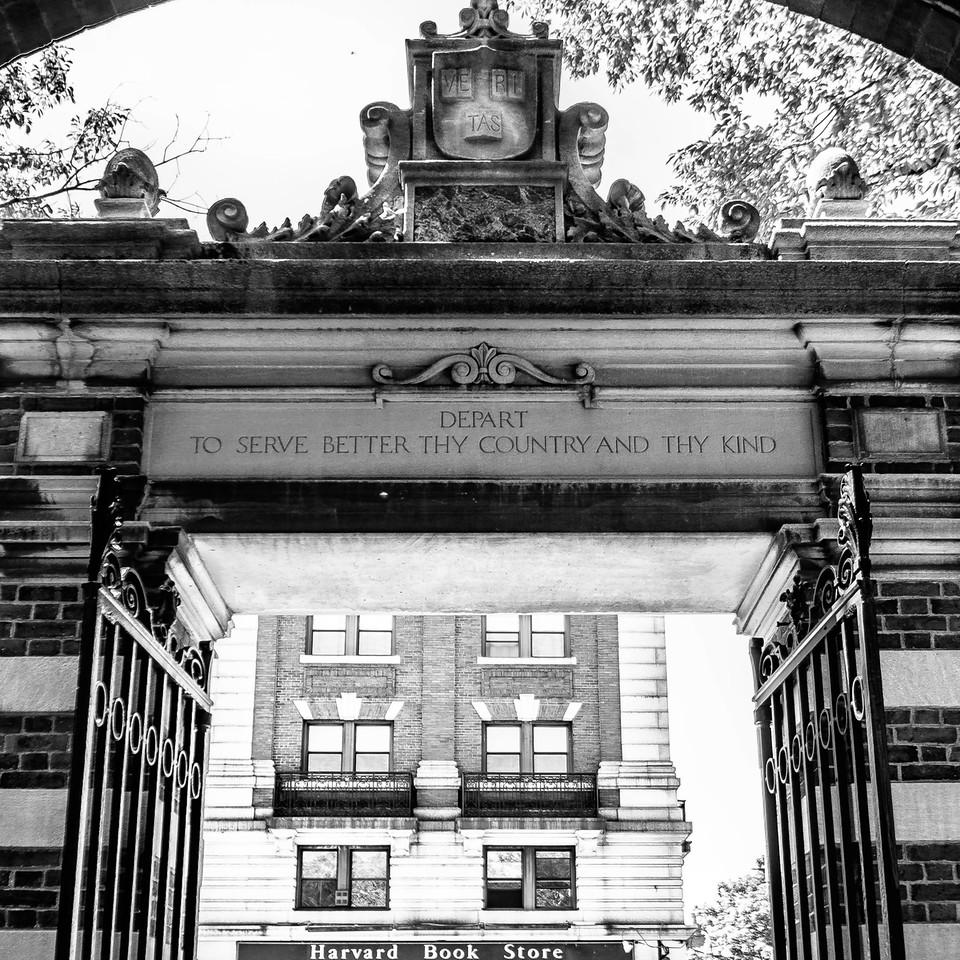 A glimpse of the history and lore associated with the 25 gates of Harvard Yard is a must for visitors and incoming students alike. Dexter Gate is one of the most well known, mostly for the inscription over the entry, "Enter to Grow in Wisdom."
But this, the exhortation to those who leave through the gate, seemed to deepen in meaning each time I passed under it, which I began to do more frequently. I did come seeking to grow in wisdom. My surprise has been that I'm leaving imbued with an unexpected urgency to find a more selfless way to express what I've learned.
Harvard Square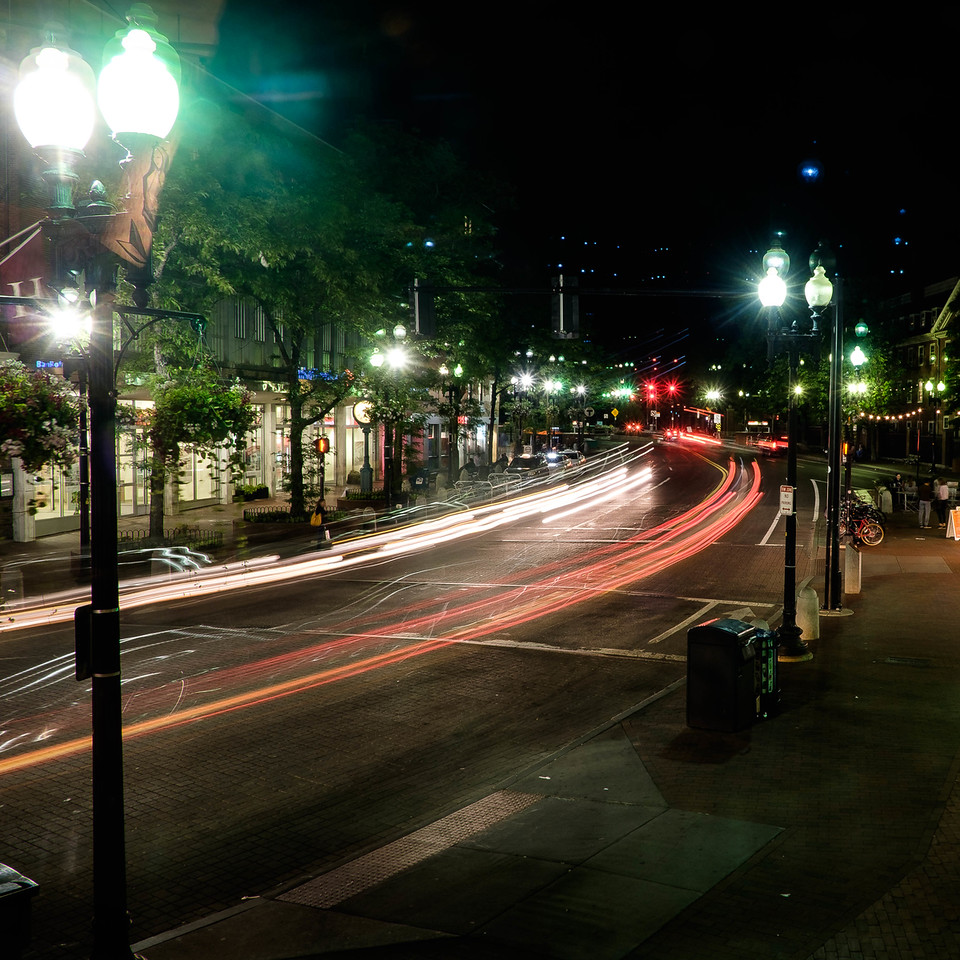 Shaky hands and a slow shutter speed helped convey the blur of a Saturday night study marathon fueled by Starbucks. I had plenty of company inside the coffee shop, but there was no shortage of folks on the street on their way to unwind and have some fun.
Cambridge, Massachusetts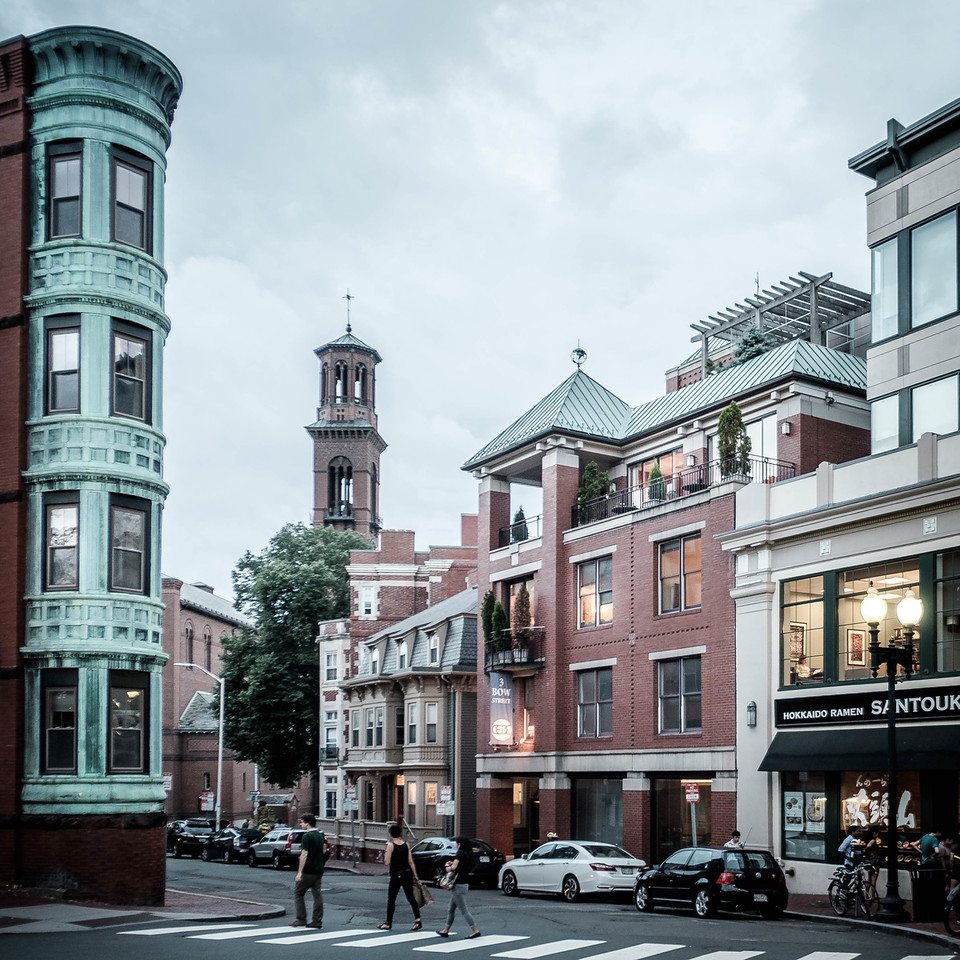 The photo critic in me admires the composition of this twilight street scene, even if the photographer in me remembers it was mostly dumb luck.
This came toward the end of my stay, and its significance comes mostly from remembering why I took it. Looking up, it was as if I nudged myself out of my thoughts to remind myself: Hey, what I'm already taking for granted here—this ingratiating environment of old and new, of the traditional and the not so traditional, of dynamic people each no doubt absorbed in their own worlds, too—this is the ineffable stuff I'll want to remember from my life now.
And I reached for my camera.
Soaking Up Sunshine and Wisdom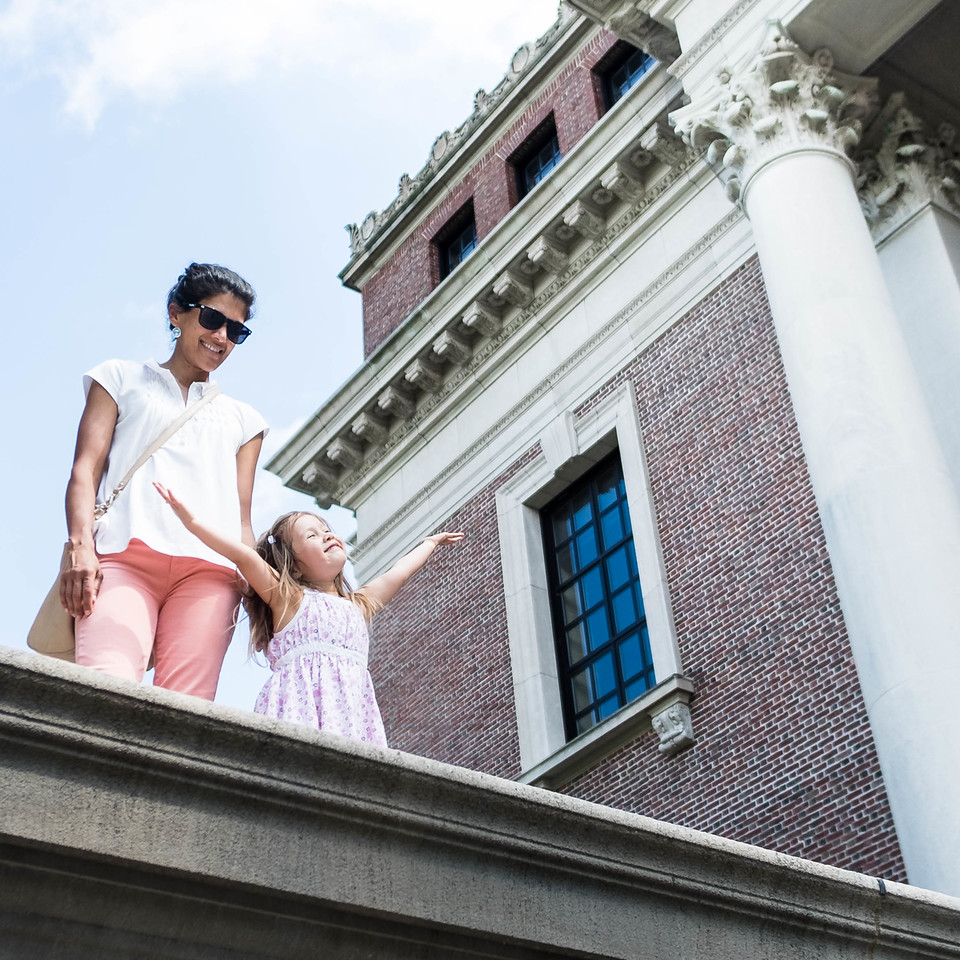 As a distance student, I seldom brush against the hope and ambition of other students as they hurry about campus. But I was fortunate enough to encounter that regularly throughout the summer. On this particular day, I was enjoying a bit of a respite with my visiting family. And in this one moment, as my daughter stretched her arms to the sky, I captured hope personified. Maybe this visit to "Daddy's school" will ignite a similar ambition for her, creating a legacy for years to come.
I hope my experience here might inspire you too. For more inspiration, check out the full photo gallery of my Harvard Summer School experience.
Follow Brent on Instagram: ​@lbrentgilmore
Follow Harvard Summer School on Instagram: @harvard_summer